Health Care Educational 9-in-1 AI Kit
PRODUCT ID: STE-MIC-002
DESCRIPTION

Health Care Educational AI Kit is a combination of artificial intelligence and sanitary epidemic prevention measures based on mirobit. In response to the new outbreak of new pneumonia in the world, many people who are infected do not have personal precautions and lack knowledge about health and epidemic prevention.
The Health Care Educational AI Kit combines the KOI (artificial intelligence module) developed by Miaojia in the kittenblock The powerful functions realized perfectly display and simulate the actions against the new coronavirus in our daily life, so that everyone can learn the knowledge of artificial intelligence while learning the epidemic prevention knowledge. Finally, cooperate with hands-on stitching modeling to simulate real scenes and enhance the impression of practical operation.
FEATURES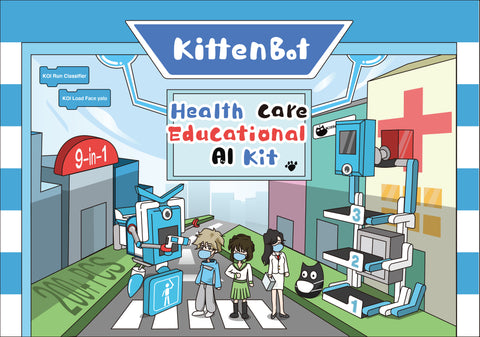 Artificial intelligence plug-in based on Kittenblock embodies the simulation scenario, in which artificial intelligence replaces humans to prevent epidemic.
The knowledge of artificial intelligence and the knowledge of health and epidemic prevention intersect each other to deepen the impression of learning.
9 tutorials on elaborated case and 16 lessons
TECHNICAL DETAILS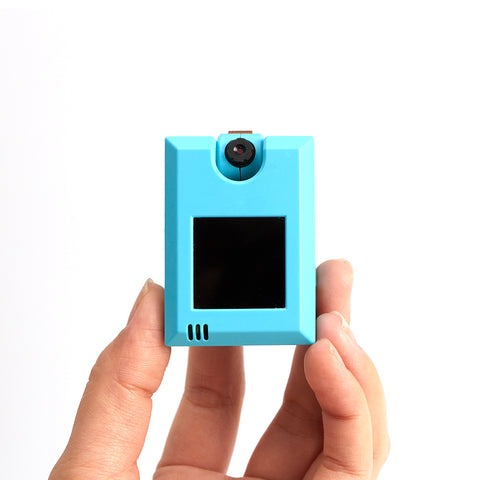 | | |
| --- | --- |
| Processor | K210 |
| Display | 240x240 IPS |
| Camera | 640x480 RGB |
| Audio Input / Output | Mono 48k sampling rate output, 8k sampling rate microphone input |
| SD card slot | TF card can be inserted to store AI models and audio and video resources |
| Wireless communication | WIFI is based on ESP8285 |
| Data output method | UART / WIFI /USB |
| Image transmission channel | USB / Wifi |
| Enter button | 2 |
APPLICATIONS
Voice control elevator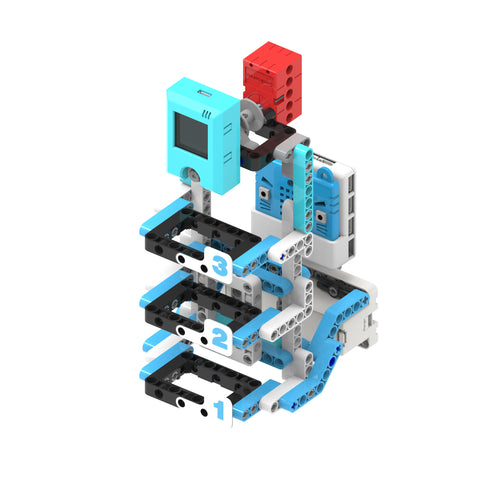 Voice recognition / broadcasting, machine learning function, the elevator will recognize the number of floors spoken by the person or the gesture made by the person, and move to the corresponding floor.
Non-contact distribution car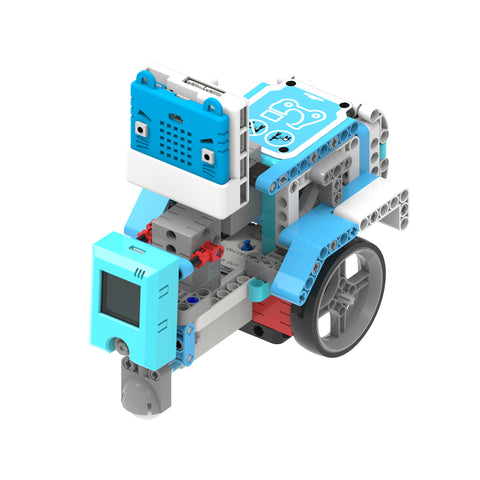 Face / object and visual tracking function, the car will make appropriate processing according to the road conditions under unmanned control, and deliver the items on the car to the hands of the designated person.
Mask wearing detection gate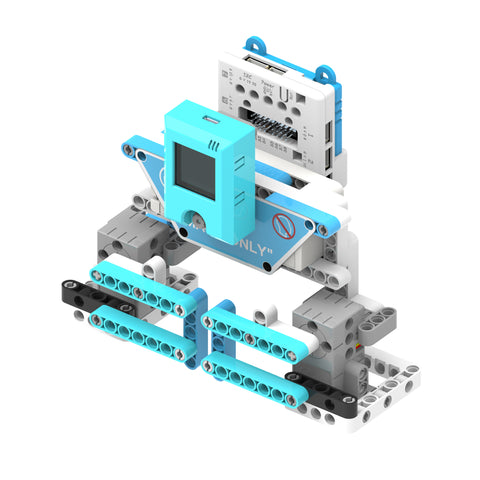 Face tracking, recognition, detection of whether the person who needs to enter the door wears a mask.
Commander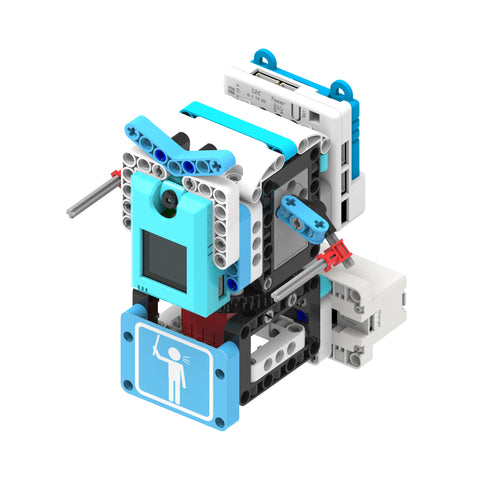 Machine learning, voice broadcast, face tracking function, at the gate, the commander can automatically command and guide the crowd, and see that there are no masks in the crowd.
Mask disinfection lamp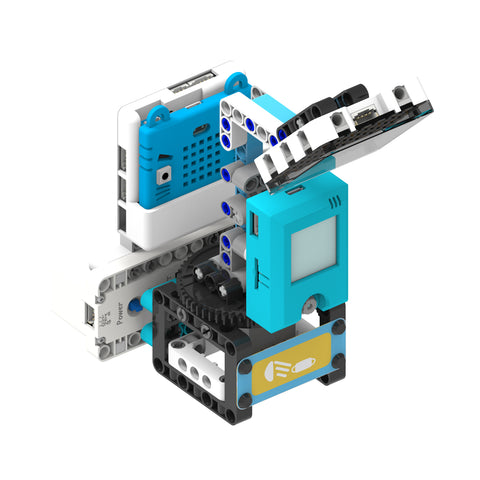 Object tracking and identification, automatically identify items placed within the scope of the disinfection lamp, and simulate UV disinfection by the RGB lamp on the top.
Non-contact doorbell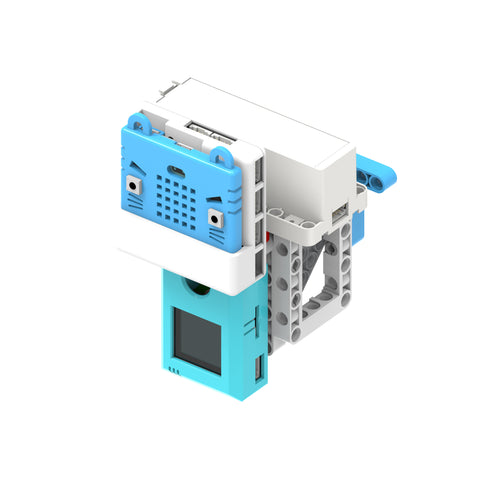 Face recognition, by recognizing the face of the visitor to determine whether you need to press the doorbell to remind the owner.
AI liquid soap box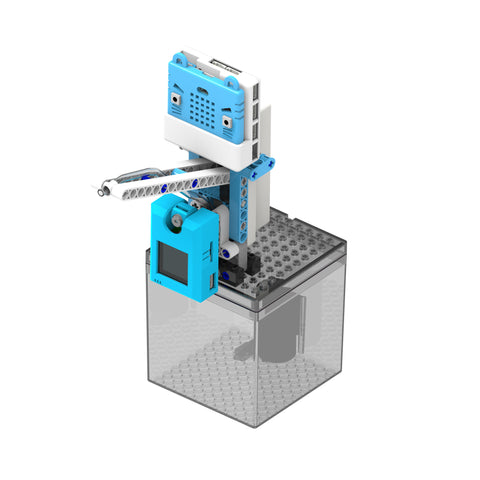 Machine learning function to control the amount of hand sanitizer pumped out by recognizing gestures.
Temperature measuring gun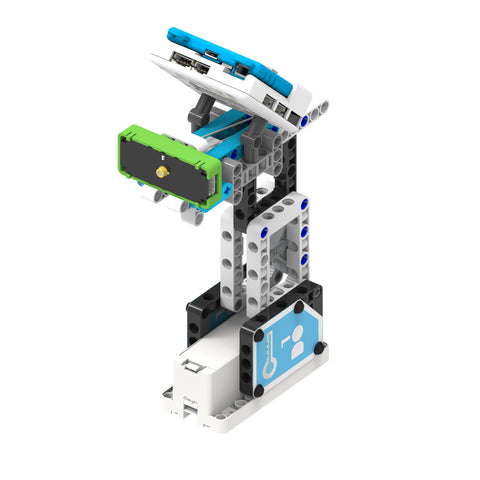 Temperature measurement magic block to detect whether the human body temperature is above the specified temperature.
Temperature measuring Pan-Tilt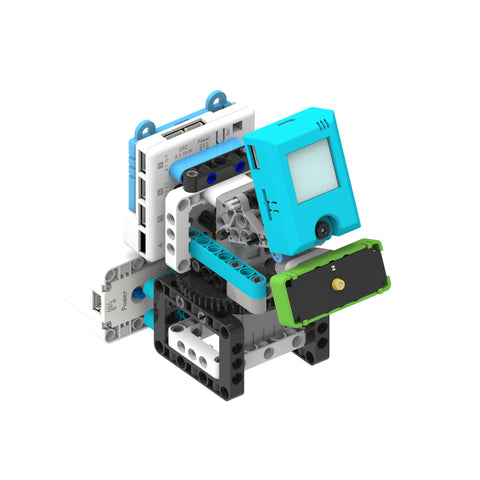 The combination of face tracking and temperature measuring magic block to detect the body temperature of passing people at a fixed point.
SHIPPING LIST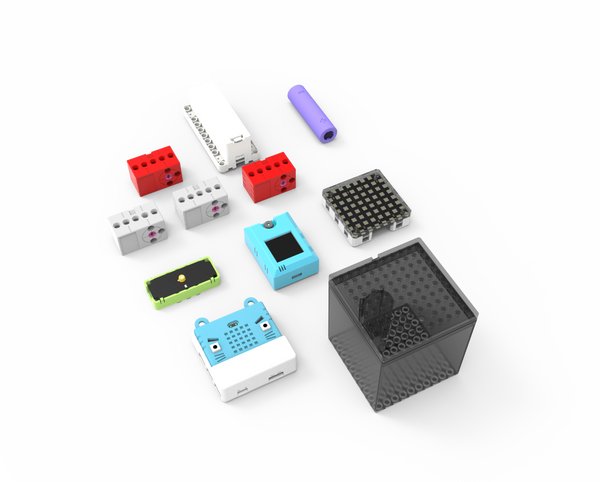 1x micro:bit
1x Armourbit
1x KOI Module
1x Non-contact Infrared Sensor
2x 2KG Servo
2x 2KG Motor
1x Color Matrix
1x 18650 Li-ion Battery Box
1x 18650 Li-ion Battery
1x Water Pump
4x 4PIN Connecting Wire
1x 3PIN Connecting Wire
1x Micro USB Cable
1x 200 pcs of Plastic Building Brick
1x Black tape
1x User Manual